Monday morning. He gave me a kiss good bye when it was still dark out. The one who delights in me and I can hardly believe it at times, but it's true. And our son came crawling in beside me just after he left for work. I shut off two alarms and turn over to stretch again. If I get up now, my son will be up for the day.
I know I need to start today with a time of quiet. But, if I get up now before my son settles back to sleep I am pretty sure that it will not be quiet that I get.
I can't wait any longer. I get up and so does my son.
He clambers up on to the kitchen cupboard. He pulls out a white cereal bowl, and the box of Raisin Bran. He is off to the fridge and pulls out the ceramic milk container and does a nice job of getting himself breakfast as well as a nice trail of mess behind him.
Just as I am ready to sit down with Bible and pen and a hot coffee he is done his cereal and wants me to read him library books. It is not just one book he wants. He has a stack.
I know I need to have this quiet time before anyone else is up. I tell him I am going to read the Bible first.
I open up to Isaiah. Where I have been reading in recent times.
And I read:
You shall no more be termed Forsaken, and your land shall no more be termed Desolate, but you shall be called My Delight Is in Her, and your land Married; for the LORD delights in you, and your land shall be married.
I recall reading about Hephzibah somewhere, years ago.
Yes, I remember reading it here. I remember Ann writing about the names she has called herself. I remember being very familiar with the same names.
I have called myself names. I have feasted on lies.
I still do.
I knew I needed to get up this morning and read truth. I just didn't know that The Truth was going to remind me that He calls me 'My Delight is in Her'; that I am the object of His and His Father's love.
I am His bride. He has covered me with robes of righteousness and He delights in me and I can hardly believe it, but it is true.
I do this; I look for ways that He loves me. I count the ways that He showers love down. Grace.

The ways that He delights in me

.
I know at times I get lost in the lies, but how much greater to

get lost in His love

.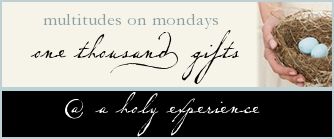 Counting more gifts from this year's 1000 gifts . . .
For today gifts acorn-small . . .
983 ~ quiet Sunday afternoon with my family
984 ~ hot chocolate with friends
985 ~ a good bye kiss
986 ~ morning walk with neighbours
987 ~ chicken stock simmering on the stove all day
988 ~ peanut butter and jam sandwiches for lunch
989 ~ chapter one of a new read-aloud
990 ~ reading library books on the couch
and not so small . . .
991 ~ how He has called me by my name ~ Hephzibah!
992 ~ that He delights in me ~ amazing grace